Hi, I'm Bruce Santhuff, owner of Spaloo.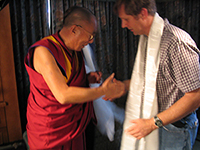 I've been a fan of the bidet toilet seat since I visited Japan for work more than a decade ago. While my initial experience with it was quite funny, I quickly recognized the advantages of this approach to cleaning and vowed to bring a similar product to the U.S. market.
That's exactly what my wife Kate and I are doing with Spaloo. Without investors or even a large amount of capital, we're working tirelessly to get our product, the Spaloo bidet toilet seat, from Wilmington, NC, and into every home in every town nationwide.
Making progress hasn't been easy; we Americans are often all too set in our ways. But when you believe in something as much as we believe in Spaloo, it's impossible to give up. Especially when we get to see how the Spaloo bidet toilet seat changes the lives of our customers for the better every day.
Whether you're a senior who wants to age in place, a stroke recovery patient yearning for independence, a mother looking for ways to improve her family's hygiene, or just plain tired of scratchy, wasteful toilet paper, we hope you'll take the time to read through our website and learn more about the Spaloo bidet toilet seat.