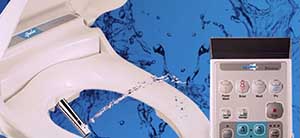 The aging process is a natural and unavoidable part of life. Although a small number of individuals make it all the way through without any serious health issues, the majority of people will develop certain conditions which come with the territory.
Some of these chronic ailments can make it hard for those who have chosen to age in place to perform some of the self care tasks that used to be easy for them. Hemorrhoids, arthritis, constipation, stroke, and other ailments can make going to the bathroom without elderly care assistance almost impossible for those suffering from these conditions. Luckily, the experts at Spaloo are way ahead of the game and have made aging in place easier.
They have created the amazing Spaloo Bidet toilet seat. This user friendly device will make taking care of personal hygiene easy for just about anyone. It is easy to install and the warm water wash followed by the moisture eliminating hot air will leave individuals feeling fresher and cleaner than ever before.
The Spaloo Bidet Seat not only makes it possible for seniors aging in place to take care of themselves, the proper use of it will go a long way towards getting rid of bacteria and germs which can cause other health issues.
So those who want their elderly loved ones to get the most enjoyment out of their golden years would do well to look into getting the Spaloo Bidet toilet seat. You install it, and we'll do the rest.
http://spaloo.com/wp-content/uploads/2015/04/Primus-w-remote-spray-300W.jpg
138
300
Bruce
http://spaloo.com/wp-content/uploads/2015/01/Spaloo-Logo-Enfold-340x156.png
Bruce
2015-04-11 12:42:50
2015-04-12 16:38:30
Aging in Place