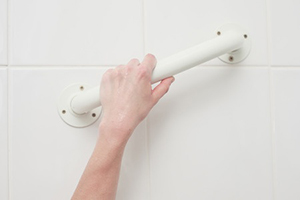 Grab bars may seem best suited for public bathrooms, but they're not just limited to commercial use. Installing bathroom grab bars in your home provides many benefits that make them a worthwhile installation.
Why Install Bathroom Grab Bars?
There's no avoiding the fact that as we age, moving around becomes more difficult. However, bathroom grab bars provide necessary assistance for the elderly. They can be installed in showers, bathtubs, or next to the toilet to aid in getting up or entering the shower.
If you or somebody who lives with you struggles with impaired mobility, grab bars still prove to be beneficial. Any elderly guests that visit may need assistance when moving around the bathroom, installing bathroom grab bars will help them become as confident, as they will be able to use the bathroom safely and independently.
When living on your own, you may want to consider installing bathroom grab bars even if you are young. Stepping into a slippery bathtub or shower can be dangerous and getting an injury from falling could be even worse if no one is around to help. Grab bars can be used for support when shaving or as help getting in or out of the shower. You'll have peace of mind knowing that even if you do happen to slip, there will be a support right at your side to catch yourself.
We may not want to think about getting older, but making sure your home can still be used optimally when you age, it is best to plan in advance. When the time comes that you need more assistance moving around, it won't be a shock that you have to install something new. The grab bars will be so familiar that you won't even realize when you have to started to use them more than before.
With the variety of sizes grab bars come in, you can install them almost anywhere in order to customize your bathroom in a way that benefits you the most. Vertical bars may be used for getting into the shower, or smaller horizontal ones may be installed inside for support while showering. Their rough texture ensures a sturdy grip and eliminates the risk of slipping that slick tile poses. Bathroom grab bars also come in several finishes and colors so they can mesh with your current style and even serve as a design element.
Other Ways to Upgrade Your Bathroom as You Age
Whether you're preparing for the future or upgrading your bathroom for the present, another beneficial installation for the elderly is the Spaloo bidet toilet seat. It can ease your pain with debilitating diseases and improve your immobility as well. Installed to any conventional toilet, it provides gentle and warm cleaning without the need to install a separate unit. Its heated seat and remote control truly make it an affordable item of luxury.
http://spaloo.com/wp-content/uploads/2015/05/Grab-Bar-300W.jpg
200
300
Bruce
http://spaloo.com/wp-content/uploads/2015/01/Spaloo-Logo-Enfold-340x156.png
Bruce
2015-05-24 21:16:09
2015-06-10 00:58:51
Benefits of Bathroom Grab Bars