This past week was National Nursing Home Week. If you don't have any loved ones in a nursing home or rehabilitation facility, or don't know someone who works in one, you may have never even heard of it, let alone know how to celebrate it. Those of us who do spend the week honoring health care professionals.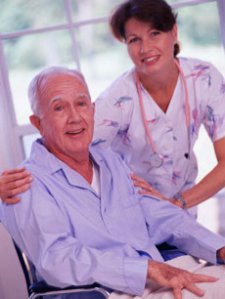 Facilities across the country celebrated this year's NNHW and its theme, Embracing Every Day. National Nursing Home Week is a week long event aimed at recognizing nursing homes and other long term or acute care facilities. Organized by the American Health Care Association, it has been a yearly event since 1967.
Most nursing homes or rehabilitation facilities hold various events during this week that both celebrate their staff and their residents. You may have never even thought about NNHW, but its principles certainly warrant reflection. When we stop and think for a moment about the care nursing home professionals provide on a daily basis, it is staggering. The healing, personal care, compassion, kindness, and relationships that staff foster with their patients is something that we all should be appreciative of.
At Spaloo, we have many long term caregivers as customers. Nurses, nurse's aides, nursing home administrators, and family members buy Spaloo bidet toilet seats for their senior residents and loved ones. We know that the product we sell is especially beneficial to the elderly, those with mobility issues, or those that need assistance with personal hygiene. With that said, we provide just one element to total care. When I think about all of the other daily tasks and interactions health care professionals and caregivers embrace, I realize that they deserve much more than a few accolades during NNHW.
So, please, if your loved one is under the care of a nurse, physical therapist, aide, home health care provider, or any type of caregiver, please remember that they are much more than "staff" and deserve your appreciation, respect and acts of kindness, every day.
http://spaloo.com/wp-content/uploads/2010/05/nursing-home-week.jpg
299
225
Bruce
http://spaloo.com/wp-content/uploads/2015/01/Spaloo-Logo-Enfold-340x156.png
Bruce
2010-05-16 00:16:44
2015-04-05 02:47:55
Honoring Health Care Professionals