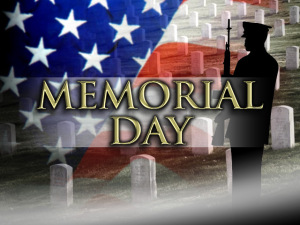 I hope everyone had an enjoyable Memorial Day weekend. With many people having an extra day off from work, the "unofficial" start of summer is often a long weekend of rest and recreation. With most of the country enjoying warm and sunny weather, camping, boating, fishing, and grilling may have been top on your to-do list.
But let's not forget the true meaning of Memorial Day. Originally Decoration Day, Memorial Day is a day reserved to honor those who have died in the service of our country, and traces back to the days of the Civil War. Chances are that someone in your family, or someone you know, has given their life as a soldier.
Below are some staggering casualty statistics per war, as seen on www.veteranstoday.com:
| | | |
| --- | --- | --- |
| War | U.S. Military Deaths | Civilian Deaths |
| Revolutionary | 25,174 | (unavailable) |
| 1812 | 20,000 | (unavailable) |
| Civil War | 620,000 | 50,000 |
| WWI | 116,516 | 6,458,886 |
| WWII | 405,399 | 36,372,900* |
| Korean | 54,246 | 1,847,240 |
| Vietnam | 58,177 | 2,000,000** |
| Iraq | 4,254 | 1,366,250 |
| Afhganistan | 1,036 | 32,969 |
| TOTAL | 1,304,802 | 48,128 |
* Number includes the 9,000,000 that died in the Nazi concentration camps.
** The Vietnamese government in 1995 estimated that 2,000,000 Vietnamese civilians on both sides died in the war.
When we sit back and think about the true cost of war, it is overwhelming. Every day we take for granted the sacrifices that men and women have made for centuries.
Please, take the time to thank those soldiers and veterans who fight for our freedom, and honor those who have given their lives in doing so.
Today, the internet helps us stay in contact with and provide support to our troops, veterans, or families of soldiers. We live in an age of communication, and for that, we must also be thankful.
There are a number of organizations available at your fingertips, making reaching out easier than ever. Should you wish to write letters to soldiers' families, send needed supplies, or simply offer messages of thanks, there are organizations and infrastructure in place.
Not long after I started Spaloo, I began supporting Home for Our Troops, and have, from time to time, donated or coordinated events to assist in donating Spaloo bidet seats to disabled veterans. Spaloo bidet seats assist those with disabilities or limited mobility, by providing a hands-free approach to personal hygiene.
My children have also written letters and cards to families of deployed soldiers through Blue Star Families.
Whichever organization or outreach efforts you may be involved in, if you're like me, you know it's not even close to being enough. To honor fallen soldiers, war veterans, or troops overseas on days such as Memorial Day or Veteran's Day is a collective approach that garnishes a certain togetherness; but our true gratitude must start every day with a simple understanding, appreciation, and most of all, "Thank You."
Bruce
http://spaloo.com/wp-content/uploads/2010/05/memorialday.jpg
225
300
Bruce
http://spaloo.com/wp-content/uploads/2015/01/Spaloo-Logo-Enfold-340x156.png
Bruce
2010-05-31 22:57:56
2015-04-05 02:40:15
Memorial Day