Anyone who has ever had to take care of a loved one in their aging years knows that it is no easy job. In many cases, there can sometimes be a role reversal, where the parent becomes the child, and the child becomes the parent. This can be a very trying and emotional time for any family.
According to a study released from the AARP as reported in USA Today, an estimated 34 million Americans serve as unpaid senior caregivers for other adults, usually elderly relatives, and they spend an average 21 hours a week helping out.
With recent economic conditions, many American families rely on two incomes in order to get by. When you add the tasks, energy, time, and emotional turmoil associated with caregiving to the already full plate many adults carry, it can literally be overwhelming.
Yet, the alternative of paying for in home care, or extended care may not be an option for everyone. Certainly, many care options are not only expensive, but may not be necessary. Everyone's situation is unique with varying levels of care needed. The decision to provide any additional care for your loved one is not one that comes lightly.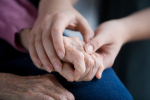 No one enjoys losing their independence. Admitting a loss in mobility, or the inability to do daily tasks can be embarrassing for a grown adult to communicate, especially to someone they have raised or parented themselves.
When it comes to needing help with truly "personal" needs, it can be embarrassing and difficult on both the caregiver and their loved one. Providing assistance in the areas of bathing, personal hygiene, or toileting are common occurences in caregiving for the elderly, but they are still sensitive, personal issues that both must face.
I've spoken with numerous people who have marveled at how a bidet toilet seat has helped with this issue. By making it easier to use the bathroom for those with limited mobility, it helps alleviate the need for caregiver involvement. The embarrassing situation of having to assist someone in wiping themselves has been eliminated, therefore helping to restore independence and provide ease of use.
If you are a caregiver, I highly recommend you look into a toilet bidet seat as a possible solution and aid to this very personal issue. Many Spaloo customers have been so glad that they did. Please contact me to discuss how you or someone you care for can benefit from a Spaloo bidet seat. Or, check out our bidet seat models at our online store.
Yours in Good Health,
Bruce
http://spaloo.com/wp-content/uploads/2015/01/Spaloo-Logo-Enfold-340x156.png
0
0
Bruce
http://spaloo.com/wp-content/uploads/2015/01/Spaloo-Logo-Enfold-340x156.png
Bruce
2010-02-28 02:10:20
2015-04-05 12:24:30
Senior Caregivers: You Must Read This