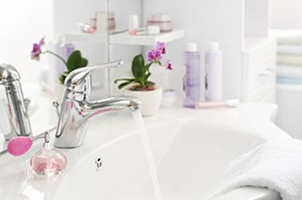 Who says living in a small space means you can't live large? Even if you're confined to a small bathroom, there are still plenty of ways you can incorporate character and even luxury into a tiny powder room.
Solutions for a Small Bathroom
1. Paint
For a simple and affordable update, refresh those walls with a coat of paint. In order to really open up the space, try to stick with light and bright colors such as sky blues or warm yellows. Contrary to what most may think, it is ok to use darker colors in a small space. Aim for cool colors, though, as they recede from your eyes and will actually expand the space.
2. Storage
Finding space for all of your toiletries is a common problem in small bathrooms, but keeping everything in its place will minimize clutter and create more space. Thankfully there are numerous stylish storage solutions to choose from. For smaller items, use glass jars on a shelf or counter-top. To store larger items like towels, use coordinating baskets. For under-the-sink storage, use labeled baskets and drawers and add an extra shelf if vertical space is available.
3. Accessorize
A quick way to freshen a bathroom is by adding flowers. Take a small bouquet and place it inside a jar or decorative vase on a shelf or counter. If storage is really limited, use your own toiletries as décor. Leave stylish perfume bottles on the counter or place make-up brushes in a jar filled with pebbles or sand.
A small bathroom doesn't have to lack personality, so hang some original artwork or framed pictures above your towel rack. Choose coordinating towels, bath mats, and shower curtains that tie the space together.
4. Keep Your Chin Up
Yes, this can be used as advice to not get discouraged when using a limited amount of space, but look up! Don't disregard all the vertical space you may have in your bathroom. Empty wall space above the toilet can be used for shelves or hanging storage units. Use the inside of cabinets for hanging jewelry storage or cleaning supplies. Take advantage of the ceiling height and purchase long shower curtains that extend all the way to the ceiling. This will make the bathroom appear much taller and compensate for the lack of floor space.
5. Treat Yourself
If you can't spread out into the grand bathroom of your dreams, splurge a little on something to make your small space seem more luxurious. Heated floors may be too much of an investment for such a small space, so put your money towards a heated towel rack instead. There's no need to tear up your floors and it will still provide a lavish touch. Another way to add luxury without space is with the Spaloo Bidet. You can keep the toilet you already have, but enhance it to an indulgent amenity that is usually not available in small spaces.
http://spaloo.com/wp-content/uploads/2015/05/Small-Bathroom-Decorating-Ideas-200H.jpg
200
302
Bruce
http://spaloo.com/wp-content/uploads/2015/01/Spaloo-Logo-Enfold-340x156.png
Bruce
2015-05-19 01:05:18
2015-05-19 01:05:18
Small Bathroom Decorating Ideas