Spaloo Primus | The World's Best Bidet Toilet Seat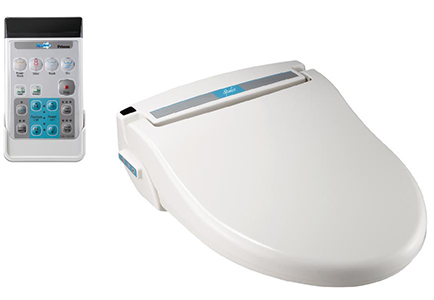 The Spaloo Primus is Spaloo's top-of-the-line luxury bidet toilet seat! It features a hand-held wall mountable remote control for easy access. Would you like to turn your toilet into a spa and enjoy a healthier way to clean? If so, the Spaloo Primus is the bidet toilet seat for you. Featuring a hand-held wall mountable remote control for easy access, it uses an extendable wand to clean delicate body parts with a gentle yet thorough spray of warm water. Supremely effective and hygienic, this bidet toilet combo will leave you feeling refreshed, comfortable and confident that you're clean.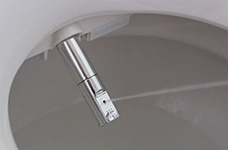 From the heated seat and adjustable water and air to elongated and round options, the Spaloo Primus toilet with bidet includes every feature available on any other current model bidet toilet seat. It's easy to install and even easier to use. Just touch a button for cleansing water and then drying air. Manufactured in white—the most popular toilet color—it will easily blend into any bathroom's décor.
Designed for use by the entire family, the Spaloo Primus is the healthiest way to stay clean. It's especially useful if you're living with a chronic health condition like hemorrhoids or constipation, age or surgery-related lack of mobility, limited flexibility, or debilitating disease. Whatever your situation, a Spaloo bidet toilet seat will truly improve your life!
Push-button remote control
Rear and bidet cleansing
On demand continuous warm water
Adjustable water pressure and temp
Adjustable seat temperature
Adjustable temperature air dryer
Power wash
Massage and pulse wash
Adjustable nozzle position
Chrome nozzle
Neutral color
Learning energy save
Child friendly settings
One Year Factory Warranty