Happy Easter!
Today was a beautiful Easter Sunday in most of the country. Spring is finally here! Whether you hid or found eggs, attended church, or put yourself in a sugar coma after raiding your kids' Easter baskets (ok, so what can I say, the Cadbury Eggs get me every year), I hope you enjoyed your day. Tonight, however, is reserved for baseball.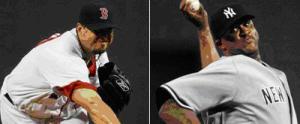 The Boston Red Sox are officially starting their 2010 season with an opener racked with rivalry. Opening Day (or Opening Night I guess) is happening now against the champion New York Yankees. Why start the 2010 season off with anything less than the largest rivalry in baseball?
Why I Would Love For C.C. Sabithia To Need a Spaloo
As the game is getting underway at Fenway Park, there has been much recent talk, of course, about the starting pitchers, Josh Beckett and C.C. Sabathia. As I sit here watching the game, I got to thinking about how prized pitchers are. After all, there are reports of a $70 million contract being signed by Beckett. Not too shabby. That puts a lot of pressure (and money) on a pitcher's health and abilities, as it is the pitcher that can make or break a game or season. Granted, they train rigorously, but throwing all those fast balls and change ups must do a number on their shoulders. Take for example, Curt Schilling, who's 2008 shoulder surgery ended his career as a pitcher. Shoulder injury can be very painful, and the recovery from surgery can often be lengthy.

Think for a moment how much you use your shoulder and arm muscles in a day. There are the obvious actions, like lifting, typing, driving. But, until you are in pain, you might not realize you use these muscles to help control other muscles and movements of the body. Try standing up from the couch and make a mental note of the fact that you need to lead the movement with your shoulder. If immobilized or causing you great pain, it would be a huge effort to do. Mentally, we might think our legs would be the driving muscle in standing, but we use our upper bodies for a lot of movements.
So, if you have an injury, or are recovering from surgery, there is a lot that you cannot do, and much more you never thought of…like, well, wiping yourself for starters. Probably not something you planned for, but debilitating none the less.
I have had many Spaloo users buy one because they are recovering from surgery or an injury, or have Arthritis or other problems affecting their mobility. Using one allows you to maintain your personal hygiene while not doing any further damage to your muscles or injury, helping the area to heal faster. Arthritis sufferers find using a Spaloo to be a miraculous solution.
Even if your injury or rehabilitation is temporary, I can guarantee that you will continue to use a Spaloo long after healing. Sure, I would love for people to tell me they purchased a Spaloo because it's an eco friendly solution, or that they know that water cleans better than toilet paper, etc. But, if you buy a Spaloo bidet seat because you need it for rehabilitation, that's ok, too. See, I know that once you use one, you'll never stop. I'm pretty sure that if you heal and no longer have issues wiping yourself, that you'll still love not having to.
So, that leads me to tonight's starters. I am a Red Sox fan. And while I would never wish harm on anyone, there is a small part of me that would not be that upset, say if that powerhouse C.C should need shoulder rehabilitation in the near future. I can't help it, that's the way a toilet guy thinks, even about sports, I guess. Heck, I might even send him one on the house.
No, on second thought I most certainly would not. At its affordable price, and C.C.'s salary, I'm pretty sure he can afford one himself. If you have an in to his agent, send him the link to our online store, or better yet, forward it to anyone you know who could benefit from a Spaloo.
Go Sox,
Bruce.
http://spaloo.com/wp-content/uploads/2015/01/Spaloo-Logo-Enfold-340x156.png
0
0
Bruce
http://spaloo.com/wp-content/uploads/2015/01/Spaloo-Logo-Enfold-340x156.png
Bruce
2010-04-04 00:49:31
2015-04-05 11:55:11
Why I Would Love For C.C. Sabithia To Need a Spaloo